Embark on a flavorful THC vape adventure with us, exploring the world of alternate hemp products with THCA and HHC disposable options, along with the unique effects of D8 vapes as well. Discover the GRDNT difference – a realm where quality, accuracy, and the enticing allure of flavored THC vapes intertwine seamlessly, offering an extraordinary experience like no other.
FIND YOUR PERFECT GRDNT STRAIN TODAY!
Each strain at GRDNT has been carefully curated and crafted to provide a unique and unforgettable encounter. Whether it be a THCA dominant strain or maybe you're looking for your next favorite HHC disposable. GRDNT carries the right strain for your needs. From the gentle touch of Daze Light Blend to the captivating allure of After Hour Blend and the mind-expanding potency of All Daze Blend, we invite you to explore the diverse flavors and effects that GRDNT has to offer.
Please note that hemp product effects can vary from person to person, and it's important to consume responsibly.
Feel energized and uplifted with our Daze Light Blend. Perfect for a clear mind without heaviness or sleepiness. Balanced cannabinoids offer a gentle elevation. Let stress melt away as you enjoy this uplifting sensation. Ideal for beginners or those new to hemp.
Indulge in our After Hour Blend: relaxing and invigorating. Perfect for unwinding or socializing. Let stress fade as uplifting effects elevate your mood and soothing undertones ground you. The ultimate companion for unwinding and finding bliss any time, anywhere.
For connoisseurs seeking an extraordinary experience, our All Daze Blend is cannabinoid perfection. Intense, euphoric, and potent. Heightened sensations and creative inspiration. Push boundaries with this mind-bending adventure. Redefine your hemp product experience.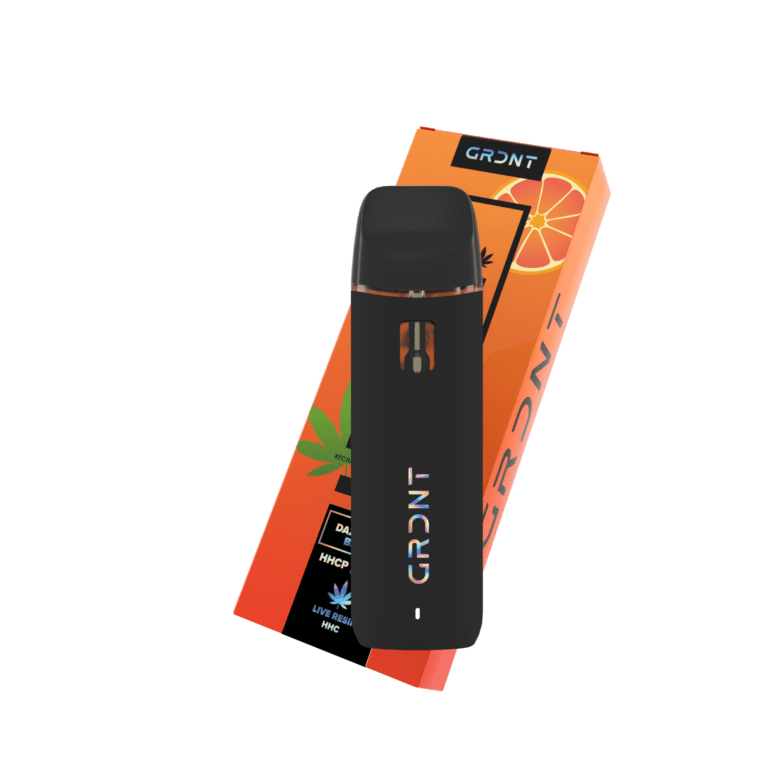 3.5 grams of deliciously flavored live resin!
1 of 4
Never miss a puff with fast charging via USB-C!
2 of 4
The world's best flavored hemp vapes. We stand by that.
3 of 4
With 3 unique and flavorful strains to choose from, GRDNT can get you through your day, no matter the situation!
4 of 4
GRDNT excels in hemp products with quality and flavor in mind. Our Live Resin extraction method captures each strain's vibrant essence. Top-tier hemp plants and leading extraction methods guarantee unparalleled quality. Choose GRDNT for a sensory adventure with a symphony of flavors. Discover cannabinoid nuance and elevate your experience.
We think we have created the best flavored hemp vapes on the market. But don't take our word for it! We have hundreds of reviews from REAL happy customers all over the internet, about just how much of a difference you can taste and feel from our products. Here are some of our favorites!
Jill B.
Smells and tastes great, with none of that weird synthetic aftertaste you get from other vapes. Makes me feel good, too, which is the whole point, right? 😛 Quite an amazing option for people like me that live in a state where you can't get such products. I'm really happy that my first THC-A experience was with GRDNT, considering I had nRead more about review stating Honeydeew!o idea where to start so I went with them cause of their launch promo, haha.
Mark
Got the Honey Dew and Raspberry Lemonade. I've had Looper XL, Torch Haymaker and Koi units. These have by far the best flavor out of them. They hit the smooothest and feel the strongest. The feeling itself, I'd say is closest to good dank that I've had yet. Don't mean to shill this hard, but just being honest.
TO K.
I went off the reviews on this site! Took a chance because I needed to get over 80$ for shipping, and tired of almost everything I've been vaping. This! Is great flavor with great effect(I have a super tolerance) If you want to get stoned off a vape? Order this! (I also think each flavor hits each person differently, so the strawbRead more about review stating Strawberry ImBakederry worked for me, but maybe not for you.
Tom B.
Tried the mango express and damn it straight taste like a mango and prob one of the strongest blends I tried
Louis L.
The OG Blook Orange is lit! This product will be my all-day smoke. By far the best Hemp products out there. They were not lying about being flavor focused.. I just reordered the Sour Dapple and another OG Blood Orange.
At GRDNT, we believe in doing things the right way. That's why each of our products are verified and tested by an accredited lab. Check out the certificates of analysis (COA) for each GRDNT flavor!